Outdoor Kitchens
Like the name implies it's a kitchen, which is.. well outside. Usually built on a uncovered or semi covered patio and is decorated with outdoor lighting and great stone work. This is a perfect feature for those who like to entertain a large number of guests but have limited kitchen space or none open concept floor plan. The outdoor kitchen gives you the ability to entertain any size party with comfort.
Why an Outdoor Kitchen?
A top benefit of having an outdoor kitchen is that they're perfect spaces for entertaining. It can get crowded in an indoor kitchen when entertaining, but outside there's much more space. Most kitchens are customed designed and features depend on the chef or grill master. Normally including the following features:
A Built-in Grill
Access Doors
Mini Refrigerator
A Trash bin
Side Burners
All though your options are not limited to these, we are happy to discuss your idea in detail and understand your wants and needs and devise a creative plan that checks all of them off your list.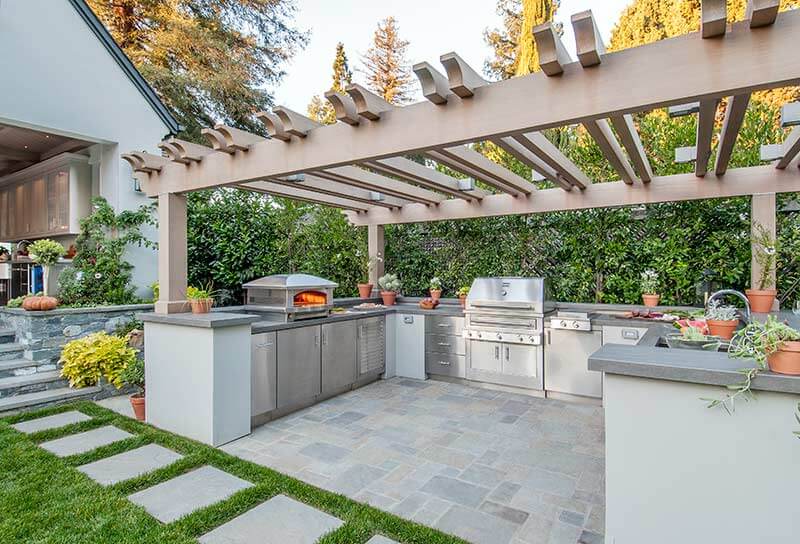 Firepits
A perfect hangout area either during the day or at night? A custom firepit can take your yard from a short duration stay to an all night hang out for all your friends and family.
Why a Firepit from Great Outdoors?
A firepit can be an extravagant addition to any lawn but can also be the biggest eye sore and potential hazard to your home and yard if not put in properly. With a wide variety of brick we can make sure that the fire pit isn't just a hole in the ground with dirt in the bottom. We highly recommend including a patio or walk way from the patio or door to the fire pit to improve the look of any firepit.
Our Firepits